Code:

[b]Name: [/b]
[b]Age: [/b]
[b]Gender: [/b]
[b]Height: [/b]
[b]Species:[/b]
[b]Appearance:[/b]
[b]Personality: [/b]
[b]Bio:[/b]
[b]Other:[/b]

evan..relic




Posts

: 2560


Join date

: 2010-10-14


Age

: 25


Location

: -_- Why do you want to know?



Name: Isaac Steele
Age: 24
Gender: Male
Height: 6' 5"
Species: Human
Appearance: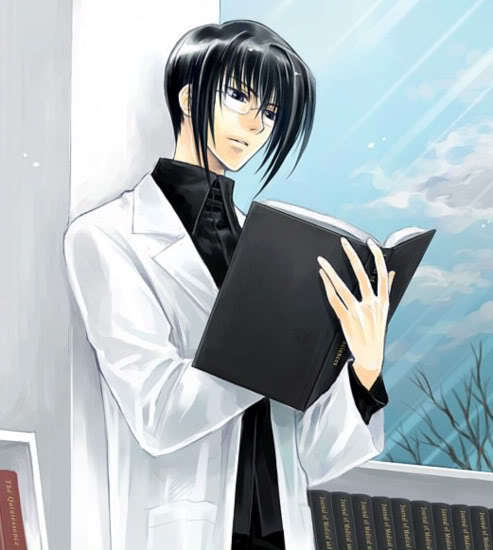 Personality: Curious, a deep thinker, analytic. Serious, but has be seen to crack a few jokes with the few friends he has.
Bio: Grew up with a fascination for everything extraterrestial, which led him into his career of being a Xenobiologist or Astrobiologist. Quickly he became renowned for his work with the sudden increase in "alien" activity on Earth. Currently lives in London, England where he's studying what his superiors call a UFO at one of the universities, but he's not entirely sure of what it is.

evan..relic




Posts

: 2560


Join date

: 2010-10-14


Age

: 25


Location

: -_- Why do you want to know?



Name: The Editor
Age: looks around 32
Gender: Female
Height: 5' 7"
Species: Time Lord
Appearance: Green eyes, long loose black hair, caucasian, business attire, dress shoes (not heels)
Personality: Random and anal, will try to correct the smallest of things, like someone being even 1 cm to the left of where she feels they should be, babbles/trips over her tongue often.
Bio: Was paired up with The Keeper to repair inconcsistencies in time before The Great Time War. To ensure she wouldn't be dragged back to said war after hearing out of, she ignored the call and hid any evidence of it from The Keeper out of cowardice. After hearing of the Time Lock, she finally relayed the news to The Keeper, mistakenly breaking the male's psyche. She tries to make it seem like nothing occurred afterwards, but she's not oblivious to his mental state.
Other: As a side effect of looking into the Untempered Schism, she feels the need to put nearly everything into a proper order, even if it's only a minor adjustment. Like OCD, though, she can occasionally fight/ignore this.
Last edited by The Family God on Wed Sep 19, 2012 6:19 am; edited 1 time in total

The Family God




Posts

: 709


Join date

: 2012-06-13



Name:
Amara Etun
Age:
24
Gender:
Female
Height:
5'9"
Species:
Human
Personality:
Open-minded, optimistic, always excited. Loves watching sci-fi shows but it sceptical that they exist.
Bio:
Amara is of African decent, but has lived in London all her life. She became a reporter for BBC through some connections that she had, and though she loves the job, sometimes she wishes something more exciting would happen. She met Isaac when he first moved to London.
Appearance:
Name: The Keeper
Age: looks around 47
Gender: Male
Height: 7' 0"
Species: Time Lord
Appearance:
Personality: Broken. Can be kind, but also sadistic(though only with enemies)
Bio: The Keeper was born into a renegade family. His father was a Time Lord called The Operator, and his mother was a human known simply as Itzel. The Keeper was very close to his sister, whom was born with a fatal defect. Though she was closer to human than Time Lord, The Keeper gave her the name 'The Dreamer'. The Dreamer saw that her brother was unhappy and convinced The Keeper to return to Gallifrey. The day he got back a letter from his father was delivered, telling him of his sister's death. In the letter, The Keeper's father blamed her death on him. He was her keeper, and he failed her.
Later on, when teamed up with The Editor, The Keeper learned too late about The Great War. This was the final straw. His mind completely snapped and resulted in The Keeper's rather ruthless attitude towards enemies.
Other: The side effect of The Keeper's Rite has made him mad. He sometimes sees things begin to age at a rapid rate, though it isn't aging as fast as he sees it. Also, rather than a sonic screwdriver, The Keeper has what he calls 'The Nebula Torch', a multipurpose blowtorch that he uses to weld, cut, and attack.
_________________
Chester come to school and said,
"Durn, I growed another head."
Teacher said, "It's time you knowed
The word is 'grew' instead of 'growed.'"
- Shel Silverstein, Where the Sidewalk Ends

Vilkas




Posts

: 2372


Join date

: 2012-06-10


Age

: 24


Location

: On my ass





Similar topics
---
Permissions in this forum:
You
cannot
reply to topics in this forum