Code:

[b]Name:[/b] ---
[b]Age:[/b] ---
[b]Gender:[/b] ---
[b]Race:[/b] ---
[b]Powers:[/b] ---
[b]Weapons:[/b] ---
[b]Personality:[/b] ---
[b]Bio:[/b] ---
[b]Appearance:[/b] ---
"Our duty is sacred. A few chosen humans, sent to slay the Archdemon. How there are non-human Dragonborn confuses and astounds me"
- Keen
Name:
Keen
Age:
21
Gender:
Male
Race:
Elf
Powers:
Summon familiars (Anything bigger than him will give him a nose bleed. Too large and Keen may very well die)
Weapons:
dual blades for close range, bow and arrows for distance
Personality:
Very serious, does everything with a sense of purpose
Bio:
Keen lived on the streets for as long as he could remember... which isn't long since his earliest memory is of being found half dead in the forest, already 19 years old. Instead of turning to petty crimes, Keen became a assistant for hire/male prostitute. Keen still searches for links to his past, but the day he saw the mark he decided to push that aside in favor of his duty. When one of the female prostitute that unofficially took him in saw the mark she panicked. Not wanting Keen to head off to possibly his death, the prostitute tried to burn the mark off. It didn't work. All she accomplished was scarring Keen. That night Keen ran away, his duty was too important.
Appearance:
Insert pointy ears XD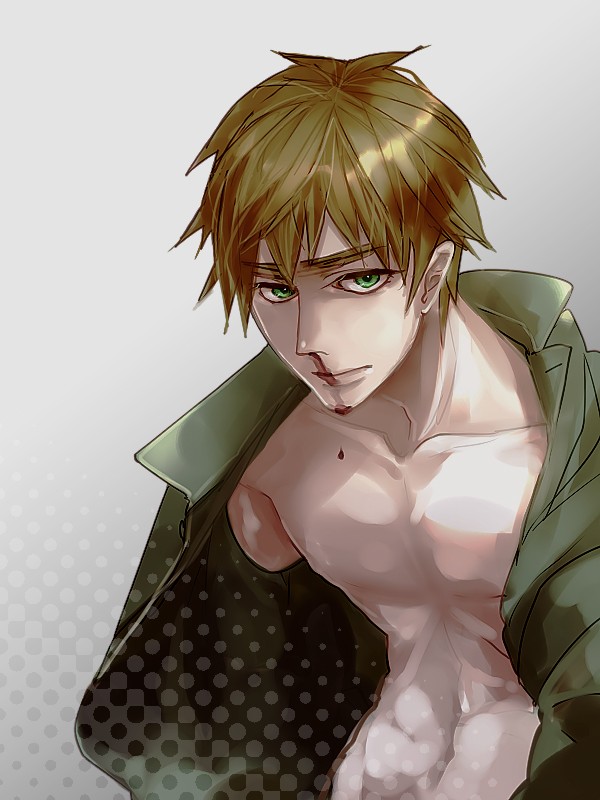 Last edited by Chibi Henry on Tue Aug 14, 2012 2:37 am; edited 2 times in total
_________________
Chester come to school and said,
"Durn, I growed another head."
Teacher said, "It's time you knowed
The word is 'grew' instead of 'growed.'"
- Shel Silverstein, Where the Sidewalk Ends

Vilkas




Posts

: 2372


Join date

: 2012-06-10


Age

: 23


Location

: On my ass



Name:
Fyre
Age:
18
Gender:
Male
Race:
Mancer (identical to humans except that they are born with an inherent mastery over some element)
Powers:
Fire magic due to him being a Mancer
Weapons:
Firesteel long-sword
Personality:
Quiet, but has quite the temper when he gets angry
Bio:
The Mancer people developed somewhat isolated from the rest of the world, so many do not know much about them. Because of this, Fyre doesn't know much of the world either. On the day of his eighteenth birthday, the Mark of the Dragon was discovered on the back of his hand. Less than three days later, he was sent forth to complete what quest Fate had gifted to him.
Appearance:

Other: Whenever he travels, he wears a crimson red cloak that was a gift from his parents, allows him to calm down and focus his Mancer abilities. Absolutely hates water, will try to avoid it at all costs. As time goes on, his Mancer abilities will become stronger. Hides a secret that even he doesn't know about.
Last edited by evan..relic on Sun Aug 12, 2012 6:19 am; edited 1 time in total

evan..relic




Posts

: 2560


Join date

: 2010-10-14


Age

: 24


Location

: -_- Why do you want to know?



Name:
Elwyn Dineris
Age:
18
Gender:
Female
Race:
Human
Powers:
By speaking in the old tongue, she can use magic.
Weapons:
A staff, two small daggers.
Personality:
Doesn't like showing she cares, but she is a very caring person. She is sometimes a little reckless, and can be a magnet for trouble. Sometimes she boasts a lot because of her powers.
Bio:
Even though Elwyn is not a Dragonborn, she has the unique ability to be able to read the old language, and draws power from it. She grew up with the Monks of Dineris in their monestary, and left when she was 16 to see more of the world, since the monks kept her sheltered. Though she spent 16 years in the monestary, she learned none of the monks polite mannerisms or ideals, not for lack of trying on the monks part.
Appearance:

[/url]
Last edited by Wiccan on Fri Jul 20, 2012 5:45 am; edited 1 time in total
Name: greylan
Age: 43
Gender: male
Race: Dwarf
Powers: no superhuman/dwarf powers. can repair armour a bit on the go (not in battle) (needs material to work with to repair armour)
Weapons: Steel smithing hammer, small iron round shield
Personality: mostly a smartass, joker kind of person
Bio: Expands as time goes on
Appearance: dark blue eyes. Brown hair, medium length. No visible scars. chainmail armour. Leather pants. 4'7". well kept beart, knots. medium/average muscle build. Heavy set (a bit fat)
Last edited by Stonewing on Wed Dec 26, 2012 5:35 pm; edited 3 times in total
Name: Fendrel Novella
Age: 19
Race: Human
Powers: Moderate-to-advanced training in kinesis magic.
Weapons: A small dagger and a few spellbooks
Personality: Very book-wise, bit of a recluse (can't think of much else so we'll see as we go along XD)
Bio: Was born and raised in Sivaakrah, a mage hall near the human town of Stonehold. Over time, his teachers began to notice his affinity, and ability, for kinetic magic. When he reached the age of 19, he decided to leave the mage hall and instead study abroad, having ignored his geographical and historical studies growing up. So with nothing more than his robes, a dagger, a few days worth of food, and a few spellbooks, he started down one path and decided he wouldn't stop until he deemed it necessary.
Appearance:
Other: The scar on his forehead, if I had to make up a reason for it being there, would be his rite of passage for 'graduating' from the mage hall. Oh, and he hasn't become a dragonborn YET, in the sense that the symbol hasn't shown up yet. I'll have that show up at some important event later.

The Family God




Posts

: 709


Join date

: 2012-06-13



"A merbian Dragonborn? I don't think that's even
possible!
It's about as likely as a womp mating with a tarb... actually, I saw that once... poor tarb..."
- Lark Maharin
Name:
Lark Maharin
Age:
17
Gender:
Male
Race:
Merb
Powers:
Spider's Grudge
Weapons:
Wooden Staff
Personality:
Paranoid, but sweet and kind
Bio:
At a very young age Lark was torn from his family. A 'Slave Breeder' was commissioned by a young noble for 'the most unique and beautiful Merb possible', thus Lark was born. He was indeed beautiful, and on top of that his singing could soothe the worst of tempers, but he also inherited his father's survival instincts, which made him difficult for the noble to handle. Seeing no future with his noble master he tricked the whole mansion into listening to a lullaby. Once everyone was asleep Lark escaped and fled to a small village of elves.
Appearance: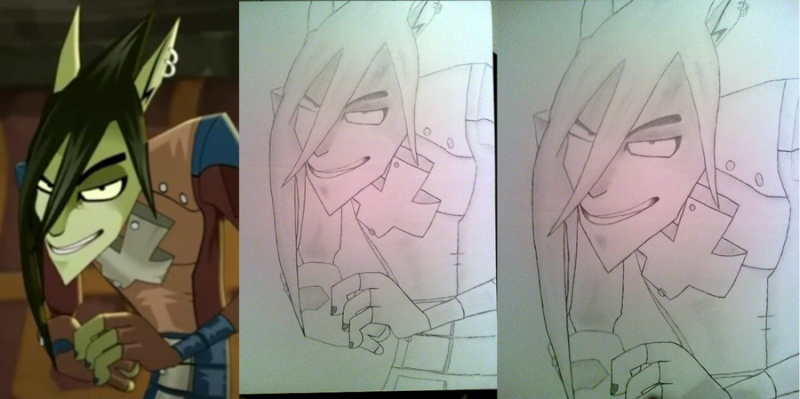 Race Info:
Merbs are a race of green or brown skinned, humanoid beings who inhabit The Dark Lands to the east. To survive in those lands Merb offspring are born with all the memories of their predecessors. They were 'saved' by the humans long ago, but in return for the 'favor' the Merbs were forced into slavery. It is common place to see Merbs scurrying around in large cities, usually doing some errand for their masters.
Merbs are taller than humans with long necks, long pointed ears and varying hues of green or brown skin with large speckles on their shoulders. Merbs are cold-blooded and smooth-skinned, rather like amphibians, even though their ears are rather mammalian and they have hair on their heads. They have only three fingers and a thumb on each of their two hands, and only three toes on their two prehensile feet.
Their eyeballs have a white hue to them, and their pupils themselves are naught but small black dots. The difference between males and females(excluding the obvious) is that males have a lion-like tail where females lack this and instead have moth-like wings.
Most masters will cut off Merbs tails and wings(much like how people used to cut dobermans ears to points) out of preference(males tails) or to keep them from escaping(females wings). If a male keeps his tail it usually has some form of piercing or gold band, simply for show.
Merbs also possess astounding strength, able to send humans over half an acre away with a single kick. No one understands why, with all their strength, Merbs serve humans still.
Though humans view Merbs as idiots they are an intelligent and resourceful race. They also have a stronger stomach than other races, able to eat food lethal to most humans. Merbs are able to see in full color and have excellent night vision. Lark is the only Merb to have a dull yellow hue to his eyes, he also has a darker skin color.
Merbs do not show a particular racial culture. Once a year, all Merbs are required to complete some form of community service, which could be potentially anything. Piercings may be part of the Merb culture, despite the fact that they could pose a "health hazard" to the extremely paranoid race.
Merbs name themselves after birds for unknown reasons. They are very reluctant to share their culture with other races. It has been theorized by humans that they name themselves after birds because of their ability to jump 20 times their own height, as if they are taking flight.
Merbs have become solitary people, never trying to befriend others for fear of the others death or betrayal. They are characterized by their cowardice, but should you befriend a Merb know that you are well protected. Any who dare harm a Merb's friend will soon learn the cunning and cruelty Merb have learned in The Dark Lands.
No Merb has ever been a Dragonborn.
The Dark Lands
: As the name implies, The Dark Lands are, well,
dark
. The nights are long, the days are short, and the sky is blotted out by the gnarled branches of the trees of the forest that covers the land. All creatures in The Dark Lands are ferocious, carnivorous, and skilled hunters.
The Dark Lands are commonly used in scary stories mothers tell their children to make them behave, but no one knows that true dangers of these lands better than the Merbs. Many a scholar have asked Merbs about their homeland, some even tried to pay them to take them there, but the Merbs refuse to go back.
And refuse to tell a soul of the horrors they had to survive there.
Lark's Ability:
Lark's ability is in actuality a curse. When Lark uses the Spider's Grudge a deep scarlet spiderweb design covers his left eye, and depending on how much is covered it will have different effects.
1/4 - Lark attacks quicker. Eye sight in left eye becomes 17/20
1/2 - Lark can climb even the smoothest surface. Eye sight in left eye becomes 10/20
3/4 - Lark can sense nearby enemies. Eye sight in left eye becomes 7/20
1/1 - Lark challenges the enemy to a battle of pure will to live. He and the enemy do battle in their minds and are affected by memories and outer stimuli, such as cheering. Even in the 'mind arena' Lark's eye sight in the left eye is 0/20
Every time Lark goes to sleep he is sent to the 'mind arena' and must do battle with every creature he has ever fought until he awakens. Others will see him toss and turn, grind his teeth, shiver, and sweat. If Lark uses his curse for too long than the loss of sight will linger and a crippling pain shoots through his body. The curse will eventually steal his soul. Lark was cursed after killing the demon Arachne whilst defending the elves.
_________________
Chester come to school and said,
"Durn, I growed another head."
Teacher said, "It's time you knowed
The word is 'grew' instead of 'growed.'"
- Shel Silverstein, Where the Sidewalk Ends

Vilkas




Posts

: 2372


Join date

: 2012-06-10


Age

: 23


Location

: On my ass





Similar topics
---
Permissions in this forum:
You
cannot
reply to topics in this forum